We recently had an experience with Johnny at Walt Disney World that is so familiar to us.  First, a little background.  In December, 2013 we had reservations at Tutto Italia, the restaurant in Italy at Epcot.  We met a very nice waiter, Vincenzo, who clicked with Johnny and made our meal very enjoyable.
Johnny was looking forward to seeing Vincenzo again during our trip in November, 2014.  We made our reservation six months in advance as is required due to popularity of this particular restaurant and he eagerly awaited the opportunity to renew his friendship.  As it turned out, Vincenzo was off that day and Johnny was terribly disappointed.  We had our meal and Johnny seemed OK with it.
However, as we were leaving, my wife and I stopped to take a washroom break off the main lobby.  When we emerged Johnny was at the reception desk talking with Mark the floor manager that night.  We intervened, but Johnny had struck.  His tale of woe regarding his good friend Vincenzo had touched a nerve with Mark.  He checked his reservation schedule and promised to fit us in the next evening and would ensure that Vincenzo had our table.
We showed up the next evening around 7:00 and unfortunately, Mark wasn't there.  I approached the new manager, Aaron, about a reservation and he shook his head until I mentioned Johnny's name.  He brightened and said, "Ah yes, the party of three for Vincenzo."  Mark had left word to get us in.  Within minutes we were seated in Vincenzo's station and our meal began.  A few minutes later, Mark appeared at our table to check on how things were going.    Apparently, he had been working a different part of the restaurant and he just wanted to stop by to say hello.  I felt like a VIP, everyone seemed to know us.
Vincenzo, knowing the difficulty of getting a reservation, laughed and said, "Six months to get in, but Johnny talks to Mark and poof, no problem!"  We all had a laugh at that.  Johnny promised a copy of his book for Vincenzo and we arranged to take it back the next afternoon before they opened.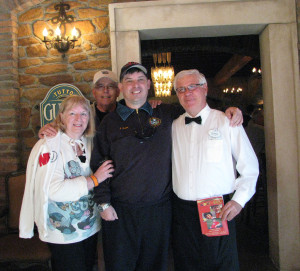 The next day we knocked at the locked door and we were let in.  The staff was waiting for our arrival, everyone seemed to be in on things.  We delivered the book and had our photo taken with Vincenzo.  He told us to call him next year on the day of our reservation and he would meet us in the morning and tour us around Epcot before he had to work in the afternoon when he would be our waiter.
Johnny has a knack of attaching himself to people in a special way and we're merely along for the ride and we're just hanging on.